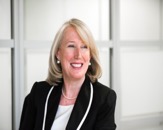 Tracey Graham announced today that she intends to be a candidate in the by-election in Cordwainer Ward following the resignation of Sir Mark Boleat after 17 years as an elected member. Tracey commented –
"I have had the privilege of working in the City for over 30 years, and have significant business experience and a long standing commitment to public service.  I would be honoured to have the opportunity to represent the Ward, and most importantly to give my time to support the interests of workers and residents in the City".
Tracey is a Portfolio Non Executive Director for a number of high profile businesses including Royal London, Ibstock plc, discoverIE plc and the LINK ATM network.