Music in the Churchyard 29th June 2021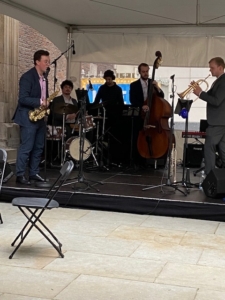 St Mary Le Bow church, supported by the Cheapside Business Alliance hosted the annual Music in the churchyard event.
It was tremendous that this live event was able to take place this year.
The late Sir Roger Gifford, was a very early collaborator in forming the annual Live festival which started in 2014 and seven years later is still going strong.
 City workers and residents were entertained by a Vaux Quintet which is a versatile Jazz band while being protected from the elements by large canopies and plenty of drinks while they listened and chatted, and enjoyed the magic of just being back in the City again.
The event was followed by dinner for 25 Ward Club members in Taverna Etrusca outside, with heaters and the wine keeping everyone warm.  
There was a great sense of  enjoyment at the first life event for 18 months.