George Gillon,  a Councilman for the Ward of Cordwainer since 1995, has announced that he does not intend to stand for re-election in March.  In a statement George said –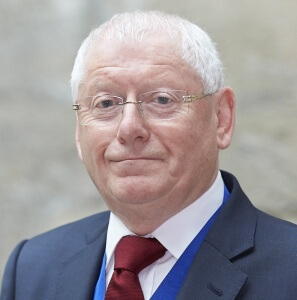 " When I set up my firm's City office at 30 Watling Street in 1987 I knew that our Cordwainer Ward would play a major part in my life. Joining our Cordwainer Ward Club simply reinforced my intention to give voluntary public service here in some way and I am so grateful to our then Alderman, Sir Brian Jenkins and our Ward Deputy Sir Michael Snyder, for encouraging me to stand for election 21 years ago – and to our constituents for frequently re-electing me!
could not have been more fortunate to have been part of the team of two outstanding Chairmen of Policy of the City of London, currently Mark Boleat and formerly, Michael – and my fellow Sheriff of London in 2008-9, our Alderman, Sir Roger Gifford, Past Lord Mayor.
I have decided, however, for personal reasons not to stand for re-election for another 4 years on March 23rd. It has been an enormous privilege to serve our constituents – many of whom have become good friends in this, undoubtedly, the best Ward in the City!
Whilst not up the street in Guildhall so often in future, I aim to continue to be involved in the Ward Club and perhaps call into Sweetings and the Bow Wine Vaults from time to time!"
Paying tribute to George, the Ward Deputy, Sir Michael Snyder, said –
"It has been a pleasure working with George in our Ward and within the City of London Corporation. He has always been dedicated to everything he does, particularly in supporting the electors and businesses in Cordwainer Ward and will be very much missed in his capacity as a Common Councilman. We were delighted that he was recognized in the Queen's Birthday Honours List by appointing him a Member of the Most Excellent Order of the British Empire for his long and distinguished public service to the City. We look forward to continuing to see him in the Ward and at social events and we wish him a long , healthy and happy retirement from civic responsibilities."
The other two sitting councilmen, Sir Michael Snyder and Mark Boleat, have both indicated that they intend to seek re-election.