The Ward of Cordwainer Club Annual General Meeting was held at Tallow Chandlers' Hall on 6 April.
Keith Lo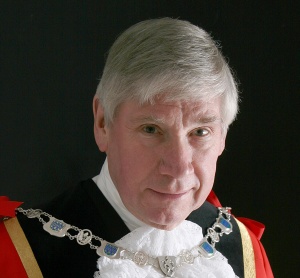 ney was elected Chairman of the Club, succeeding Darren Clayton.  Keith was Deputy Chief Executive of the Association of British Insurers when it was based in Aldermary House in the Ward.  Subsequently he was involved in establishing Pool Re and worked in the acedemic field specialising in insurance issues.  More recently Keith was a councillor in Sevenoaks, including serving for a year as Mayor.  The picture shows Keith wearing the insignia of the Mayor of Sevenoaks.
The new Deputy Chairman is Jon Norton. a Director at Wells Fargo Capital Finance.  Sam Walker of Aberdeen Asset Management has joined the Committee.
The Chairman's  programme for the year includes visits to the Globe Theatre, the College of Arms, Lincoln's Inn and the Dickens Museum.
Following the AGM the Ward Club held its annual lunch at which the guest speaker was Timothy Duke, the Norroy and Ulster King of Arms.