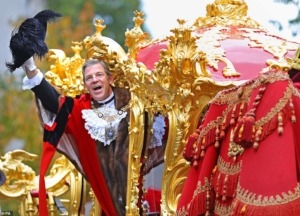 The 692nd Lord Mayor William Russell – Lord Mayors Show 10th November 2019
The Lord Mayor's show has been a fixture of London life for centuries, and has become the world's greatest unrehearsed civic processions.
The route's possession passes directly thru Cordwainer Ward, past St Mary-le-Bow church, and many businesses in our Ward.  The show is a rich and diverse civic parade of over 6000 people with dozens of marching bands, military detachments, carriages, dance troops, inflatables, giant contractions and ceremonial displays.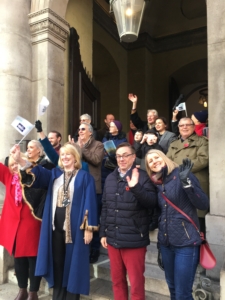 St Mary Le Bow – Lord Mayor's Show Brunch celebration
Reverand George Bush kindly hosted a brunch reception at St Mary-le-Bow church so that Congregation and Ward members could celebrate the installation of the 692nd Lord Major, Alderman William Russell of Bread Street Ward, and watch him pass in the most spectacular gold stage coach!
The event combined London's heritage and modern dynamism to create a spectacle event which was enjoyed by thousands of people.